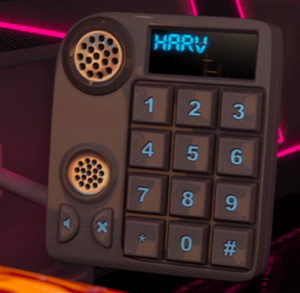 Agent to Lightning McQueen, representing his publicity interests and other racing-related bookings. Harv is never actually seen in the movie; his voice is only heard over the telephone inside Mack's trailer. As such, nothing is known about Harv, such as what type of car he is.
Harv is a standard "wheeling and dealing" agent with a non-hands-on approach to his work. He doesn't even watch Lightning's races, his only concern being for the money that Lightning makes him. After the three-way tie in the Dinoco 400 Piston Cup race, Harv strokes Lightning's ego about how well he's done over the racing season, and then asks who Lightning would like to give complementary tickets to for the tie-breaker race in California. Lightning is unable to think of any friends to offer the tickets to.
Later, when Lightning is found in Radiator Springs after his week of being missing from the public eye, Harv phones from the back of Mack's trailer to tell Lightning that rival race car Chick Hicks has been in California all week long, wooing Dinoco, the mega-sponsor both racers are interest in signing with. He encourages Lightning to get to California immediately if he hopes to have any chance at shmoozing with Dinoco.